OK, OK, so you've read the title of this blog and I know what you're thinking:
"She's nuts, I would never pay that much for a serum..."
and maybe you're right.💁🏼
After all, I do have expensive taste, and I'm sucker for beautiful branding.🙊
So when I stumbled across AVEC Skin, it quickly became a "must have" in my beauty kit. 😍
I have to admit when I saw the price tag on the serum, I did grimace a little, but at the same time, I had to remind myself that I've also spent FAR more on beauty products in the past. 😬
But what if I told you, that AVEC Skin is actually a really smart purchase.
Here's why:
I recently purchased a 20mL serum (pictured below, right) from a brand I love for $84.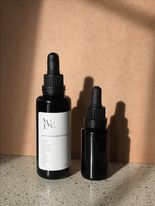 If you want the same amount of the first serum, you'd have to purchase it at least twice. Plus shipping.
I also once purchased a 30mL moisturiser for $240.
(Please don't judge me, I'm a sucker, I know!)
But do the same math and 50mL is going to cost me $400!!! 
AVEC Skin's Bioactive Nutrient Serum is less than half of that (slightly ludicrous) moisturiser purchase of mine. So the price of AVEC Skin, comparatively, is starting to look pretty good! 😃
Most serums are 20-30mL so with 
AVEC Skin's
50mL bottle of goodness you are getting at least 40% more upfront when you purchase.
More volume

Less Waste

Less Environmental Impact
While there may be a lot of Australian beauty brands on the market, very few ingredients actually come from Australia. Fact.
AVEC Skin source directly from organic sustainable farms. In Australia.
So when AVEC Skin say they hand-pick their ingredients at the height of harvest, I get this cute little visual of a farmer  putting their straw hat on, going out into the field and picking all these little goodies, to put into my serum. Makes me feel all warm and fuzzy. Just like sunshine on your back, right?! 🌱☀️
An Australia-made product packed with 14 vitamin and mineral-rich botanicals which feels incredible and smells nothing short of delicious. 
Just when you thought you couldn't love this home-grown brand anymore its wonderful to know that AVEC Skin is proudly female owned and operated, and they give back - a percentage of every purchase is invested in a female-focused charity. 💛
So there you have it, that's why I'd spend $195 on a serum.... 
Maybe I ain't so crazy after all! 🙃🙃🙃